We are proud to have Rabbi Edward Boraz (call him Rabbi) serve our Congregation.
Born in St. Louis, Missouri, Rabbi grew up in a Jewishly conservative environment. After his Bar Mitzvah, he became a Torah reader to this very day.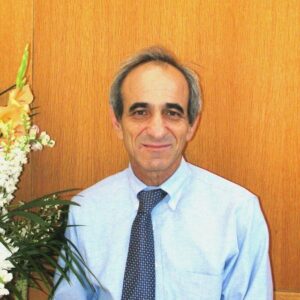 Welcome to this portion of our Temple. I am honored to serve as the Rabbi of Springhill Avenue Temple, now in my third year. Describing the essence of my rabbinate centers around the question, "What part of our great faith can be most helpful to the person, regardless of age, before me to enrich this person's life?" For some, it may be Torah study; for others, it might be prayer, or assisting someone in times of joy, such as a Bar, Bat, or B Mitzvah, or sorrow, the loss of a loved one, or other challenging moments in one's life's journey.
One might say that I am a committed learner, even attending an Orthodox Yeshiva for one year early in my spiritual journey. Before becoming a Rabbi, which is one of the cores of my being, I was an attorney, which has given me a deep appreciation for the stress of anyone involved in such proceedings and those among us in that profession. After receiving my ordination, I continued my studies, focusing on classical rabbinic texts, and I received a Ph.D. while serving a small, conservative congregation in Cincinnati. My law degree was surprisingly helpful in both my rabbinic and graduate studies.
For quite an extended period (20 years), I was at Dartmouth College, where I served as the Associate Chaplain, Hillel Director, and Rabbi for the local Jewish community. I am completing my studies (October 1) for a Master's in Clinical Mental Health Counseling (this will be the last one, I promise). I find pastoral counseling one of the most meaningful parts of serving as a Rabbi.
In addition to my love of Judaism, I love music (all different types, but perhaps classical the most) when I can manage to get away – golf. And most of all, my wife Maggie, who, each day, makes me a better Rabbi. As an aside, she is the leader of our small but growing religious school.
Please feel free to contact me. I would love to meet and learn more about you, whether you are a member of our wonderful congregation, Jewish but unaffiliated, or of another faith tradition interested in whatever way in our faith.
My email address is rabbiboraz@gmail.com